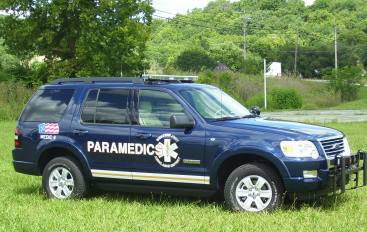 FOR EMERGENCIES - DIAL 911
FOR NON-EMERGENCIES - 513.353.4079
FAX - 513.353.4948

CURRENT OFFICERS
Chief Nadine Swift
Captain Jim Corbin
Medical Director Dr. Matthew Birkle
CURRENT BOARD MEMBERS
LaWanda Corman - Whitewater Township
Chuck Heis - Crosby Township
Clerk - Robert Grauvogel
Legal Advisor - William Deters
ADVISORY BOARD
Chief Jason Davis - Crosby Fire Department
Chief Scott Schorsch - Whitewater Fire Department
COMMUNITY ORGANIZATION INVOLVEMENT
Protect
(
Providing Resources and Opportunities To Enrich our Community Together
)- A coalition of businesses, public safety, community organizations, schools and churches. This group attends to the needs of local community residents.
Western Hamilton County Drug Free Coalition
- an extension of the Greater Cincinnati Drug Free Coalition to bring drug awareness and prevention to the area.

CHASE PROGRAM
Beginning in 2003, the West JAD Medics, in cooperation with the Crosby Fire Department, the Crosby 5th grade School Teachers, Principal Kiersten Rogers, Dare Officer Corporal Schmitt, local businesses and Community Safety Net, have presented a Safety Awareness Program just prior to the end of the school year. This program is named the CHASE program, which stands for Children's Awareness to Safety Education. The program is written by Community Safety Net, a company which has compiled the material into a very nice spiral bound book and DVD which includes a first aid guide, safety education on many relevant topics, certificates, games and even a contest for a free computer for one nation-wide winner in the United States. In 2003 and in 2012 the computer winners were from Crosby Elementary.
The goal is to present the program to the children and send the materials home to continue the training with siblings and parents, reinforcing good safety habits for a lifetime for the family.

HISTORY
The Western Joint Ambulance District, known locally as West JAD, is a multi-community tiered Paramedic Service founded by the community leaders and the local Fire Chiefs to provide advanced life support to our community residents and visitors in conjunction with the local Fire Departments and Emergency Medical Services. West Jad was established in November of 1995 and began operations on the street on July 1, 1996. The original communities participating were the Village of Cleves, Crosby, Whitewater and Harrison Townships and the City of Harrison. The District was designed to provide advanced care to all of the patients in the geographic area by sharing services and expenses until each community chose to provide the paramedic level of protection individually.
The District has served approximately 2200 patients per year while serving in the five communities, and staffed one medic in each community. With the District's downsizing to the Crosby and Whitewater coverage, the current call volume is approximately 1000 per year.
Additional services provided for the communities in the District are First Aid and CPR courses, Babysitting Courses, EMT tutoring, Paramedic and EMT student clinical rotations. West JAD and the Crosby Fire Department try to assure that they meet the need of all of the patients in the District, and will accommodate specific medical requirements if notified.


AWARDS


Dr. Matthew Birkle was awarded Medical Director of the Year for 2012 in the State of Ohio.